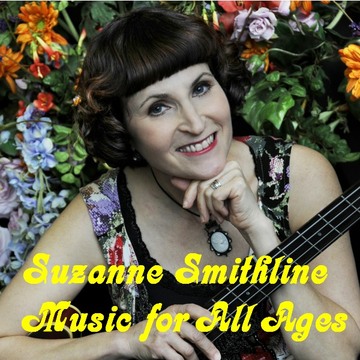 Featured Songs
Blue Moon
Teddy Bear
One Love
As Time Goes By
Love Potion Number 9
Downtown
Save The Last Dance For Me
Dream A Little Dream Of Me
It's Now Or Never
Why Do Fools Fall In Love
You Are My Sunshine
Music For All Ages!
Performed by Suzanne C. Smithline.
…
Standards, Pop songs Rock and Roll, Country Favorites.
…
…
About the show
…
When Suzanne Smithline is booked as a solo performer, she sings and plays the electric bass guitar, accompanied backing tracks created by Glenn in their home studio.
Suzanne is skilled at performing for senior audiences, including those with Alzheimer's and dementia. Her program includes many familiar songs that people love to sing along with. Her uptempo and ballad selections are appreciated by those who love to dance and move to the beat or play rhythm instruments.
…
She is equally experienced performing for children, including songs like Rock Around The Clock, La Bamba, Girls Just Wanna Have Fun, Do You Believe in Magic, The Lion Sleeps Tonight, the Loco-motion and You've Got a Friend In Me.
She is also able to do special seasonal programs for Mardi Gras, Fourth of July, Halloween, and the December holiday season.
…
Suzanne has many sizes of PA systems available so that she can play a small day room or a larger space.