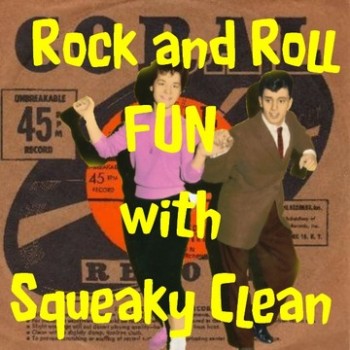 Featured Songs
Rock Around The Clock
Boy From New York City
Lollypop
The Loco-Motion
Rockin' Robin
Girls Just Wanna Have Fun
Splish Splash
Eye of the Tiger
Twist and Shout
Rock and Roll FUN with Squeaky Clean
An interactive rock and roll concert featuring great songs and lots of audience participation
Available formats
Full band for in-school assembly
Full band or duo for libraries
Full band or duo for camps and recreation programs
…
Keywords
American History Music History
…
About The Show
While we take great pride in our scripted educational programs, there are times when everyone just wants to have a rocking good time.
"Rock and Roll FUN with Squeaky Clean" is the perfect choice for special celebrations, such as the end of the school year, school anniversaries, field days, etc.
We tailor our song selection to suit the age of the audience and the performing space available to us. The performance can take place in an auditorium or a gymnasium.
Dancing, singing along and age-appropriate audience participation are the centerpiece of this program.
Young children enjoy making a train for "The Loco-Motion" or pretend surfing for "Surfin' USA."  Older children learn how to do the hand jive for "Boy From New York City" or Motown dancing for "Stop In The Name of Love."
While the show does not have a specific educational agenda, we do share some stories about the performers who made the songs famous.   Children don't often have the opportunity to see rock and roll music performed by a real band and learn a great deal about music making and teamwork from observing our performance.  
Often we take a few minutes to demonstrate how our instruments are played and how they function in our ensemble.