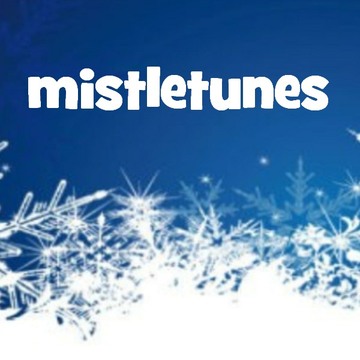 Featured Songs
Jingle Bell Rock
Rudolph The Red-Nosed Reindeer
Must Be Santa
Frosty The Snowman
Feliz Navidad
I Want A Hippopotamus For Christmas
Mele Kelikimaka
Rockin' Around The Christmas Tree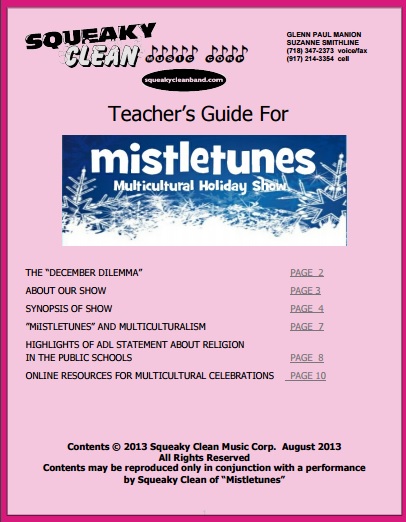 Mistletunes
…
Multicultural Holiday Show
…
…
About the show
…
SQUEAKY CLEAN has developed their multicultural December show "Mistletunes" to meet the needs of schools with a diverse population of children who observe holiday celebrations towards the end of the calendar year, including Christmas, Hannukah, Kwanzaa, Dongzhi, Three Kings Day and Eid-al-Fitr. We do our best to make sure no child feels excluded, whether their family is observing a major holiday, a minor holiday or no holiday at all.
We acknowledge that there is nothing wrong with helping others share in the joy of their celebrations and that, in fact, many holidays share customs such as lighting candles, exchanging gifts, festive meals and family gatherings.
Glenn's rendition of the classic Jingle Bell Rock opens the show as the audience claps and sings along. There is also lots of enthusiastic singing along with Suzanne as she sings Rudolph The Red-Nosed Reindeer wearing pretend antlers, the first of many silly hats she will wear during the performance.
…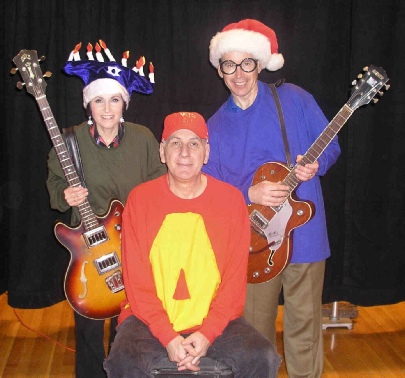 Glenn then shares the story behind his original composition "Christmas Isn't Mine," which he describes as a song for people who celebrate Christmas AND people who celebrate something else.  The lyrics acknowledge that Christmas holiday observances can be appreciated even if you don't celebrate the holiday and that, in turn, learning about other cultures' celebrations can also be fun.  And the song mentions Chinese food.
Glenn then speaks about how many holidays at this time of year feature candles and light as part of their rituals.  South Asian families light candles to chase away evil spirits; Christians have Advent Wreaths; families who celebrate Kwanzaa light red, green and black candles.  And of course, Hannukah candles are lit over eight nights.  All children love to sing The Dreydel Song. The audience gets a chance to imitate the spinning top as Suzanne shows them how to do The Twist from their seats.
Next comes "America's Latest Quiz Show Sensation:  Know Your Holiday Characters."  Our drummer Phil is given a series of hints about a famous holiday character.  Suzanne provides more hints from a bag of clues.  A befuddled Phil asks for help from the audience and the band launches into a rousing version of "Must Be Santa."
Suzanne introduces the song about the famous snowman, but fails to realize she has put on a chicken hat instead of a snowman hat until she is alerted by the audience.  After singing "Frosty The Snowman,"  Glenn mentions Los Tres Reyes who come on Three Kings Day and invites the audience to sing "Feliz Navidad."
Suzanne then speaks about Kwanzaa, referring to its African origins and the seven principles represented by the seven candles.  She has the audience repeat each principle's Swahili name before the band performs Suzanne's original composition "Kwanzaa Kwanzaa Kwanzaa."
A lively rendition of "I Want A Hippopotamus for Christmas" follows.
.
 Suzanne mentions that many people celebrate December holidays in a warm climate and teaches the audience Hawaiian hand movements that represent starts, waves and palm trees.  Glenn reluctantly appears onstage in an appropriate costume.
…
The show concludes with  Brenda Lee's Rockin' Around the Christmas Tree, made famous in the first Home Alone movie.
"Mistletunes" has become an annual tradition in many area schools, so it is never too early to reserve a December date.