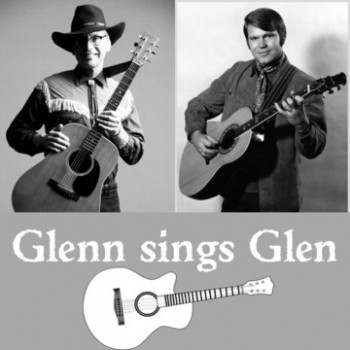 Featured Songs
Try A Little Kindness
Rockin' And A-Rollin'
Turn Around, Look At Me
Help Me Rhonda
Something Stupid
Less Of Me
By The Time I Get To Phoenix
Southern Nights
Glenn sings Glen
Our multimedia tribute to the beloved singer/guitarist Glen Campbell
Available formats
Duo for Senior Programs and Libraries
Band for Libraries, Public Concerts
Multimedia content available where possible..
About The Show
Arkansas native Glen Campbell has been entertaining audiences for more than 60 years, starting out as a teenager in his uncle's western band.  Along the way, he has sold more than 45 million records; charted dozens of hits on both the pop and country charts; hosted a top-rated musical variety show and appeared in several movies.
In 1969, he sold more records than the Beatles.  In the turbulent 1960s, Glen worked with both the long-haired Smothers Brothers and American icon John Wayne.  
Glen's appeal transcends all age groups. His 2012 farewell tour, in the midst of his public struggle with Alzheimer's, brought together generations of fans to cheer him one last time.
Our concert program presents a selection of his best-loved songs, both as a solo artist and as a member of LA's legendary Wrecking Crew, where Glen played on recordings by The Beach Boys and Frank Sinatra.
Our multimedia presentation adds onscreen lyrics for singing along and video clips of Glen sharing stories from his many decades in show business.