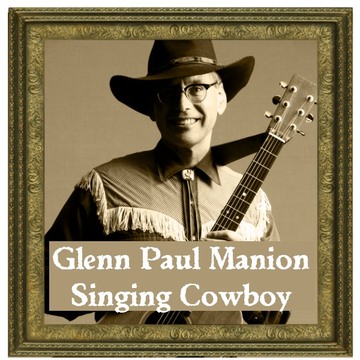 Featured Songs
Back In The Saddle Again
Don't Fence Me In
I'm An Old Cowhand
San Antonio Rose
You Are My Sunshine
Walking The Floor Over You
Lovesick Blues
Better Side Of Me
Satisfied Mind
You Don't Know Me
Rank Strangers
Lover's Leap Of Faith
Big River
El Paso
Pretty Boy Floyd
City Of New Orleans
Stay Diana
Suspicious Minds
Goodnight Irene
Happy Trails To You
Glenn Paul Manion – The Singing Cowboy
…
Songs of the Old West and old-school Country and Western favorites, performed for all ages.
About the Show
Glenn Paul Manion grew up listening to country music on his transistor radio, as he did his early morning paper route in Syracuse, NY.  He remembers hearing the tragic story of Hank Williams, as related by Minnie Pearl on a radio series called "The History of Country Music."  He also loved to watch a program called "Cowboy Jamboree" and guitar music used as the theme: a song by Chet Atkins called "Rainbow."
In his solo presentation, Glenn dresses up like he just stepped out of a Technicolor Western:  oversize cowboy hat, colorful Western shirt and cowboy boots.  He also wear a string tie that belonged to his Dad, a Western historian born in Wyoming.
His program includes many familiar songs that people love to sing along to, such as "Back In The Saddle Again" and "Don't Fence Me In."  Many favorites by Hank Williams, Eddy Arnold and Marty Robbins are also featured.  Glenn also adds a few of his own compositions and a healthy dose of cowboy tall tales and corny jokes.
…
…