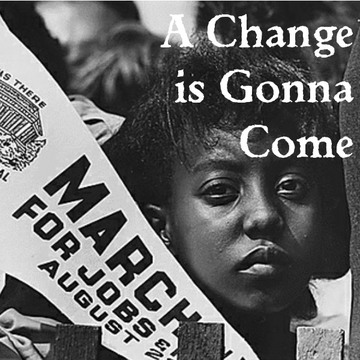 Featured Songs
A Change Is Gonna Come
A Place In The Sun
Tweedledee
Sister Rosa Mambo
Why Am I Treated So Bad
We Shall Not Be Moved
I'm Gonna Sit At The Welcome Table
If You Miss Me At The Back Of The Bus
What The World Needs Now
If I Had A Hammer
Ain't Gonna Let Nobody Turn Me Around
Blackbird
We Shall Overcome

A Change Is Gonna Come
…
A Multimedia History of the American Civil Rights Movement 1954 – 1968
…
…
About the show
Our newest program presents the tumultuous events of the American Civil Rights movement in an engaging, uplifting manner. Narration, still photos and videos are skillfully combined with live musical performances of songs from the era. The audience will join in singing and clapping along to the many "Freedom Songs" featured in the program.
The program has been designed for both children and adult audiences. The narration uses simple language and includes brief explanations of unfamiliar terms, such as "segregation," "boycott" and "NAACP."

…
Younger elementary school audiences will benefit from classroom preparation in which the history of racial discrimination in America can be discussed. Many children, growing up in an America governed by an African-American President, may need support in order to understand the racially-divided America of past generations.
The recorded narration of the program is the voice of an African-American grandmother reflecting on all the changes she has witnessed during her lifetime.
Hi Glenn,
I wanted to thank you and your wife for providing such an important and relevant presentation. It was straightforward.  It was so moving. It's the kind of  program we need at this stage in our history. It is the kind of a program I am so happy to bring to the Long Beach community.
Thank you for making it all possible!
Sincerely,
Edie Kalickstein
Long Beach Public Library